TileHillKid.UK - Wakefield Crossing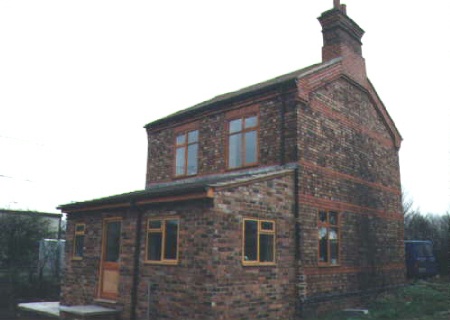 Wakefield Crossing [Railway] Cottage [between Torrington Avenue and Yarmouth Green, Charter Avenue, Canley] - the Crossing was closed in the early 1970's.
Wakefield Crossing Cottage was likely built about 1838 when the Railway line was cut through Canley and Tile Hill. It is situated off [present day] Yarmouth Green, Charter Avenue. This extremely interesting Edwardian-style cottage was completely refurbished in recent decades, retaining the original charm and character including the 16" cavity brickwork of the original Railwayman's Cottage. It now includes many modern additions, including, stained sealed unit double glazing, solid floors on the ground floor, replastering, rewiring and replumbing, throughout. There are now 3 bedrooms incl. one with shower en-suite. On the groundfloor, the front has an extension and there is also a utility room and bathroom to the rear. Much has changed since the Railwaymen lived there !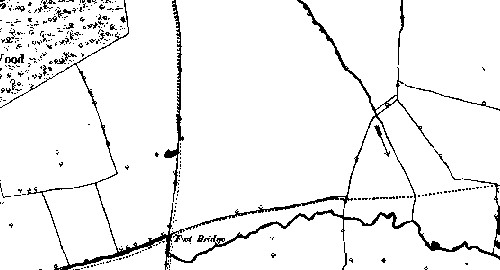 map of Wakefield Crossing [Railway] [between Torrington Avenue and Charter Avenue, marked "foot bridge" on map] c1889
Wakefield Crossing Cottage was built next to the Railway line along a cart lane. Inside lived a Railwayman and family - his job was to manually operate the wooden gates, to ensure safe passage of carts, horses and livestock over the lines. In the 1950's, a steam engine was derailed at the crossing - its front bogie wheels crashed through the gates - subsequently they were replaced. The gates were in operation until the 1970's, when finally the crossing was closed due to the increased speed of Inter-City trains - the crossing has since been replaced by a pedestrian subway under the lines. Also closed about that time, in June 1971, and for the same reason, was a Mobilgas petroleum storage Depot situated a few hundred yards down-line towards Canley. The Depot had its lorry entrance along Torrington Avenue. Early morning, dozens of petrol wagons were brought by engine, then shunted backwards into the Depot sidings where they were left for the day to have their load released into massive storage cylinders. At the end of the day, an engine returned to collect the empty wagons. The waters of the brook which ran under the Depot attracted a film of petroleum pollution which subsequently flowed towards Canley, changing the waters to 'rainbow' colours. The smells of petroleum around the Depot were unbearable.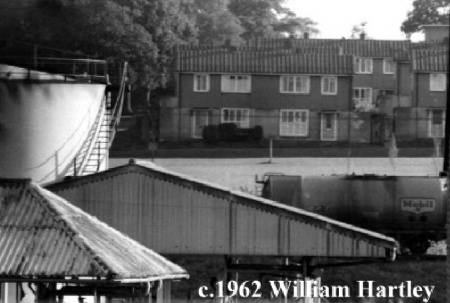 view from my bedroom window [1960's] of the Mobilgas petroleum storage Depot, Torrington Avenue [closed in June 1971]. Houses in the background are situated in Yarmouth Green, Canley.
1881 Census
1851 Census

Tile Hill Kid - Links
please scroll to click on links below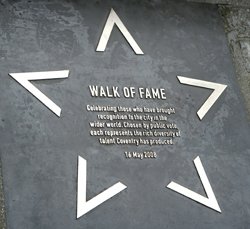 Tile Hill Kid
Walk of Fame - Stars
Arnold Cottages
Bell Inn, Tile Hill Village
Canley Gates [Railway]
Canley Hill
Connoway Farm
Duggins Lane WW2 Hostel
The Old Smithy, Duggins Lane
Fletchampstead Farm
Fletchampstead Hall
Hearsall Farm
Hereward [Further Education] College
Jardine Crescent
Leigh [CofE] Primary School
Limbrick Farm
Limbrick Wood
Limbrick Wood Primary School
Massey-Ferguson Company
Newlands Pub and Shops
Old Reformatory
Our Lady of the Assumption [Catholic] Primary School
Park Wood
Pig Wood
Plants Hill Wood
Pound, Tile Hill Lane
Rough Close
Standard Motor Company
Standard-Triumph Social Club
Tanyard Farm
Templars School Reunion
Templars School History
The Old Smithy, Duggins Lane
Tile Hill [Further Education] College
Tile Hill Cottages
Tile Hill Farm
Tile Hill Lane
Tile Hill Station [Railway]
Tile Hill Village
Tile Hill Wood
Tile Hill Woodlands Local Nature Reserve
Tile Hill Wood [Girls] Secondary School
Wakefield Cottages
Wakefield Crossing [Railway]
Westwood Vicarage
Whoberley
Whoberley School Reunion
Whoberley School History
Whoberley Hall
Whoberley Villa
Woodlands [Boys] Secondary School
Tile Hill Street Pics
Westcotes 1945 Street Party

join Tile Hill Kids on Facebook
---
bookmark for updates:
http://www.gone-butnotforgotten.org.uk/tilehillkid/
copyright 1998
Tile Hill Kid
All rights reserved.
Please do not copy any of the website TileHillKid.UK without prior permissions. Any commercial use or any use in future publications is prohibited. If you encounter any problems on this website, please email William@TileHillKid.UK immediately.