TileHillKid.UK - Duggins Lane WW2 Hostel
Duggins Lane Hostel, Tile Hill was built on farmland just off Tanners Lane-Tile Hill Lane. Opened 12th April 1943 for Aircraft production workers, the Hostel housed between 600 and 1500 residents from all over Britain, who worked at the Standard Motors factory at Canley, Fisher and Ludlow, and Massey Ferguson works at Banner Lane. One block was used to house actors and dance bands, who performed plays and other entertainment.
Between 1946 and 1952, newly married couples stayed on as 'squatters', long after the war. Eventually new council housing estates were completed in Canley, Tile Hill North and Tile Hill South and the squatters were transferred to those. During the really harsh winter of 1947, families had no heating, so the council took control of the Hostel, charged a nominal rent, and installed coal ranges. Many couples were quite happy living there. Houseowners in Duggins Lane weren't happy; they had been promised that after the war, the Hostel would be demolished and everything would be put back to how it was, but that didn't happen until long after 1952.

Tile Hill Kid - Links
please scroll to click on links below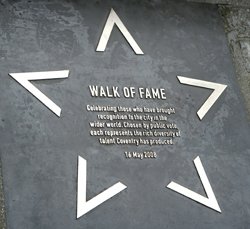 Tile Hill Kid
Walk of Fame - Stars
Arnold Cottages
Bell Inn, Tile Hill Village
Canley Gates [Railway]
Canley Hill
Connoway Farm
Duggins Lane WW2 Hostel
The Old Smithy, Duggins Lane
Fletchampstead Farm
Fletchampstead Hall
Hearsall Farm
Hereward [Further Education] College
Jardine Crescent
Leigh [CofE] Primary School
Limbrick Farm
Limbrick Wood
Limbrick Wood Primary School
Massey-Ferguson Company
Newlands Pub and Shops
Old Reformatory
Our Lady of the Assumption [Catholic] Primary School
Park Wood
Pig Wood
Plants Hill Wood
Pound, Tile Hill Lane
Rough Close
Standard Motor Company
Standard-Triumph Social Club
Tanyard Farm
Templars School Reunion
Templars School History
The Old Smithy, Duggins Lane
Tile Hill [Further Education] College
Tile Hill Cottages
Tile Hill Farm
Tile Hill Lane
Tile Hill Station [Railway]
Tile Hill Village
Tile Hill Wood
Tile Hill Woodlands Local Nature Reserve
Tile Hill Wood [Girls] Secondary School
Wakefield Cottages
Wakefield Crossing [Railway]
Westwood Vicarage
Whoberley
Whoberley School Reunion
Whoberley School History
Whoberley Hall
Whoberley Villa
Woodlands [Boys] Secondary School
Tile Hill Street Pics
Westcotes 1945 Street Party

join Tile Hill Kids on Facebook
---
bookmark for updates:
http://www.gone-butnotforgotten.org.uk/tilehillkid/
copyright 1998
Tile Hill Kid
All rights reserved.
Please do not copy any of the website TileHillKid.UK without prior permissions. Any commercial use or any use in future publications is prohibited. If you encounter any problems on this website, please email William@TileHillKid.UK immediately.