TileHillKid.UK - Hearsall Farm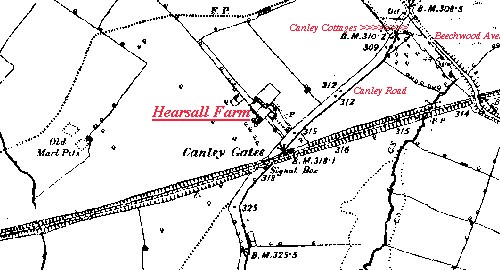 map of Hearsall Farm [ex-Standard Works near Canley Halt, Canley Road] c1889
1881 Census
Dwelling: Hearsall Farm
Census Place: Stoneleigh, Warwick, England
Source: FHL Film 1341738 PRO Ref RG11 Piece 3096 Folio 47 Page 1
Marr Age Sex Birthplace
James C. COLLINS M 59 M Bradley, Somerset, England
Rel: Head
Occ: Dairyman (Ag Lab)
Constance COLLINS M 50 F Stoake Lane, Somerset, England
Rel: Wife
Emily M.R. COLLINS U 21 F Ditchet, Somerset, England
Rel: Daur
Occ: Barmaid
Julia C. COLLINS U 18 F Ditchet, Somerset, England
Rel: Daur
Occ: Dressmaker
Mercy S. COLLINS U 15 F Wike Champton, Somerset, England
Rel: Daur
Arthur H. COLLINS 12 M Pitney, Somerset, England
Rel: Son
Occ: Scholar
Sarah E. COLLINS 9 F Theal, Somerset, England
Rel: Daur
Occ: Scholar
Clara E. COLLINS 9 F Theal, Somerset, England
Rel: Daur
Occ: Scholar

Dwelling: Hearsall
Census Place: Stoneleigh, Warwick, England
Source: FHL Film 1341738 PRO Ref RG11 Piece 3096 Folio 47 Page 1
Marr Age Sex Birthplace
William FLECKNER M 66 M Stoneleigh, Warwick, England
Rel: Head
Occ: Ag Lab
Elizabeth FLECKNER M 44 F Berkswell, Warwick, England
Rel: Wife
Jane LINNEY W 42 F Packington, Warwick, England
Rel: Wifes Sister
Occ: Housekeeper Domestic

Dwelling: Hearsall House, Hearsall Common
Census Place: Stoneleigh, Warwick, England
Source: FHL Film 1341738 PRO Ref RG11 Piece 3096 Folio 47 Page 2
Marr Age Sex Birthplace
Lucy BANT W 54 F Berkswell, Warwick, England
Rel: Head
Occ: Market Gardener
Louisa BANT U 22 F Stoneleigh, Warwick, England
Rel: Daur
Occ: Housekeeper
Thomas BANT U 20 M Stoneleigh, Warwick, England
Rel: Son
Occ: Market Gardener
Fanny BANT U 18 F Stoneleigh, Warwick, England
Rel: Daur
Occ: Dressmaker

Dwelling: Hearsall Common
Census Place: Stoneleigh, Warwick, England
Source: FHL Film 1341738 PRO Ref RG11 Piece 3096 Folio 47 Page 2
Marr Age Sex Birthplace
Joseph MILLS M 40 M Stoneleigh, Warwick, England
Rel: Head
Occ: Ag Lab
Sarah MILLS M 39 F Shelton, Warwick, England
Rel: Wife
Ernest MILLS 8 M Berkswell, Warwick, England
Rel: Son
Occ: Scholar
Alice MILLS 6 F Stoneleigh, Warwick, England
Rel: Daur
Occ: Scholar
Jane MILLS 4 F Stoneleigh, Warwick, England
Rel: Daur
Joseph H. MILLS 3 M Stoneleigh, Warwick, England
Rel: Son
George MILLS 9 m M Stoneleigh, Warwick, England
Rel: Son

1851 Census
Head: CAMPBELL, Sarah
Name Relationship Mar Age Sex Occupation Birthplace
Sarah CAMPBELL Head W 78 F Farmer 136 Acres Emp 1 Lab Budbrook-War
Charlotte GILBERT Niec U 35 F House Keeper Rowington-War
Thomas GILBERT Neph U 30 M Bailif Rowington-War
Emma BACHELOR Serv U 20 F Farm Servt Stretton On Dunsmore-War
Richard RUSSELL Serv U 27 M Farm Waggoner Camden-War
James WOOD Serv U 24 M Farm Shepheard Oakley-War
Address: Hearsall Farm, St John Westwood
Census Place: Stoneleigh Warwick, Warwickshire
PRO Reference: HO/107/2073 Folio: 23 Page: 1 FHL Film: 0087339

Head: BANT, William
Name Relationship Mar Age Sex Occupation Birthplace
William BANT Head W 58 M Market Gardener Stoneleigh-War
Mary BANT Daur U 33 F --- Stoneleigh-War
David BANT Son U 25 M --- Stoneleigh-War
George BANT Son U 13 M --- Stoneleigh-War
Joseph SWAIN Serv U 19 M General Serv Balsall-War
Address: Hearsall House, St John Westwood
Census Place: Stoneleigh Warwick, Warwickshire
PRO Reference: HO/107/2073 Folio: 23 Page: 1 FHL Film: 0087339
Despite encroachments and the opening of a golf course, Hearsall Common still had a somewhat wild and open prospect; roads were not fenced unlike that on the right leading off to Canley. Similarly, in a few years, after the 1914-18 War, the road leading over the railway bridge known as Whor Lane was to become Beechwood Avenue and would become part of suburban Earlsdon.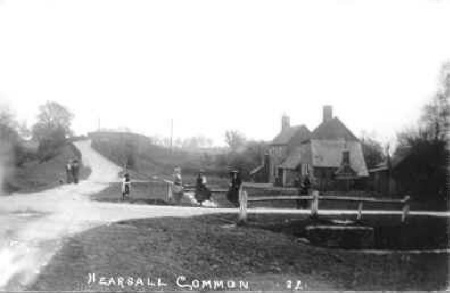 Hearsall Cottages showing Beechwood Road bridge over the mainline railway and Canley Road running to the right. Sadly these cottages were demolished just as new houses were being built nearby on Canley Road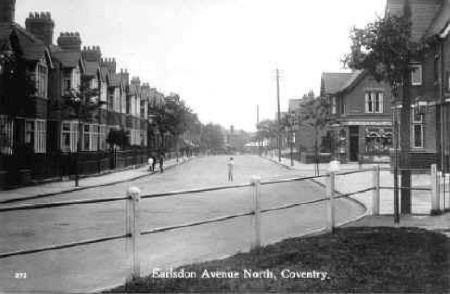 Hearsall Common/Earlsdon Avenue North

Tile Hill Kid - Links
please scroll to click on links below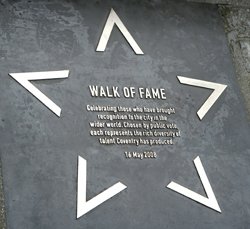 Tile Hill Kid
Walk of Fame - Stars
Arnold Cottages
Bell Inn, Tile Hill Village
Canley Gates [Railway]
Canley Hill
Connoway Farm
Duggins Lane WW2 Hostel
The Old Smithy, Duggins Lane
Fletchampstead Farm
Fletchampstead Hall
Hearsall Farm
Hereward [Further Education] College
Jardine Crescent
Leigh [CofE] Primary School
Limbrick Farm
Limbrick Wood
Limbrick Wood Primary School
Massey-Ferguson Company
Newlands Pub and Shops
Old Reformatory
Our Lady of the Assumption [Catholic] Primary School
Park Wood
Pig Wood
Plants Hill Wood
Pound, Tile Hill Lane
Rough Close
Standard Motor Company
Standard-Triumph Social Club
Tanyard Farm
Templars School Reunion
Templars School History
The Old Smithy, Duggins Lane
Tile Hill [Further Education] College
Tile Hill Cottages
Tile Hill Farm
Tile Hill Lane
Tile Hill Station [Railway]
Tile Hill Village
Tile Hill Wood
Tile Hill Woodlands Local Nature Reserve
Tile Hill Wood [Girls] Secondary School
Wakefield Cottages
Wakefield Crossing [Railway]
Westwood Vicarage
Whoberley
Whoberley School Reunion
Whoberley School History
Whoberley Hall
Whoberley Villa
Woodlands [Boys] Secondary School
Tile Hill Street Pics
Westcotes 1945 Street Party

join Tile Hill Kids on Facebook
---
bookmark for updates:
http://www.gone-butnotforgotten.org.uk/tilehillkid/
copyright 1998
Tile Hill Kid
All rights reserved.
Please do not copy any of the website TileHillKid.UK without prior permissions. Any commercial use or any use in future publications is prohibited. If you encounter any problems on this website, please email William@TileHillKid.UK immediately.