TileHillKid.UK - The Old Smithy, Duggins Lane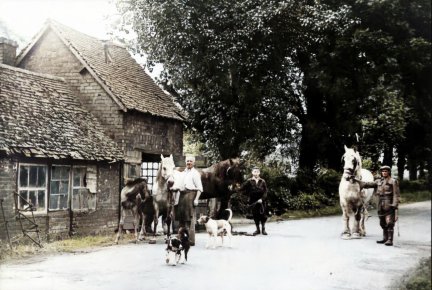 George Duggins [left] at the Old Duggins Lane Smithy [photo by Joy Shakespear on Flickr]
colourised by TileHillKid.UK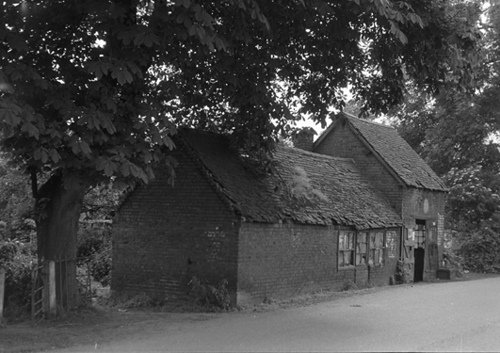 The Old Duggins Lane Smithy [as was] now converted, see below.
[photo by Anthony Weir on Flickr]
1985 photo [Photo by E W Shakespeare]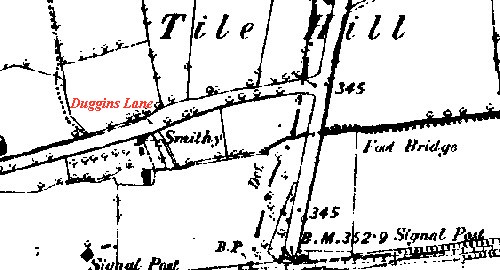 map of The Smithy, Duggins Lane, Tile Hill Village c1889
1881/1851 Census
Edward Duggins, then his son George from Berkswell were Blacksmiths at The Smithy. Duggins Lane was named after the family name. Source: www.gone-butnotforegotten.org.uk.
1851 Census
John DUGGINS Head M 57 M Blacksmith Emp 3 Berkeswell-WAR
Maria DUGGINS Wife M 41 F --- Kirby Corner-WAR
John DUGGINS Son - 16 M Blacksmith Berkeswell-WAR
Jane DUGGINS Daur - 7 F --- Berkeswell-WAR
Mark DUGGINS Son - 5 M --- Berkeswell-WAR
David DUGGINS Son - 3 M --- Berkeswell-WAR
Levy DUGGINS Son - 8 M --- Berkeswell-WAR
Joseph MEADOWS Serv U 21 M Blacksmith Journ Milton Keynes-BUK
Address: Duggins Lane, Meriden
Census Place: Berkeswell Meriden, Warwickshire
PRO Reference: HO/107/2063 Folio: 275 Page: 5 FHL Film: 0087322
Edward DUGGINS Head M 25 M Blacksmith Berkeswell-WAR
Sarah DUGGINS Wife M 22 F --- Kenilworth-WAR
Address: Hodgetts Lane, Meriden
Census Place: Berkeswell Meriden, Warwickshire
PRO Reference: HO/107/2063 Folio: 300 Page: 7 FHL Film: 0087322
1881 Census
Edward DUGGINS Head M Male 55 Berkswell Blacksmith
Sarah DUGGINS Wife M Female 52 Kenilworth
George DUGGINS Son U Male 22 Berkswell Blacksmith
John DUGGINS Son U Male 16 Berkswell Blacksmith
Amy DUGGINS Daughter U Female 13 Berkswell Scholar
Emma DUGGINS Daughter U Female 7 Berkswell Scholar
Source Information: Dwelling Duggins Lane Census Place Berkswell, Warwick, England
Family History Library Film 1341729 Public Records Office Reference RG11 Piece / Folio 3054 / 24 Page Number 4
The Old Smithy, Duggins Lane, Tile Hill, Coventry. [Converted to a house, now No. 23 Duggins Lane] [photo by Joy Shakespear on Flickr]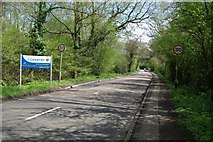 The boundary of Coventry on Duggins Lane © Copyright Keith Williams and licensed for reuse under this Creative Commons Licence.
---

Tile Hill Kid - Links
please scroll to click on links below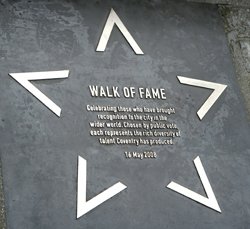 Tile Hill Kid
Walk of Fame - Stars
Arnold Cottages
Bell Inn, Tile Hill Village
Canley Gates [Railway]
Canley Hill
Connoway Farm
Duggins Lane WW2 Hostel
The Old Smithy, Duggins Lane
Fletchampstead Farm
Fletchampstead Hall
Hearsall Farm
Hereward [Further Education] College
Jardine Crescent
Leigh [CofE] Primary School
Limbrick Farm
Limbrick Wood
Limbrick Wood Primary School
Massey-Ferguson Company
Newlands Pub and Shops
Old Reformatory
Our Lady of the Assumption [Catholic] Primary School
Park Wood
Pig Wood
Plants Hill Wood
Pound, Tile Hill Lane
Rough Close
Standard Motor Company
Standard-Triumph Social Club
Tanyard Farm
Templars School Reunion
Templars School History
The Old Smithy, Duggins Lane
Tile Hill [Further Education] College
Tile Hill Cottages
Tile Hill Farm
Tile Hill Lane
Tile Hill Station [Railway]
Tile Hill Village
Tile Hill Wood
Tile Hill Woodlands Local Nature Reserve
Tile Hill Wood [Girls] Secondary School
Wakefield Cottages
Wakefield Crossing [Railway]
Westwood Vicarage
Whoberley
Whoberley School Reunion
Whoberley School History
Whoberley Hall
Whoberley Villa
Woodlands [Boys] Secondary School
Tile Hill Street Pics
Westcotes 1945 Street Party

join Tile Hill Kids on Facebook
---
bookmark for updates:
http://www.gone-butnotforgotten.org.uk/tilehillkid/
copyright 1998
Tile Hill Kid
All rights reserved.
Please do not copy any of the website TileHillKid.UK without prior permissions. Any commercial use or any use in future publications is prohibited. If you encounter any problems on this website, please email William@TileHillKid.UK immediately.