TileHillKid.UK - Plants Hill Wood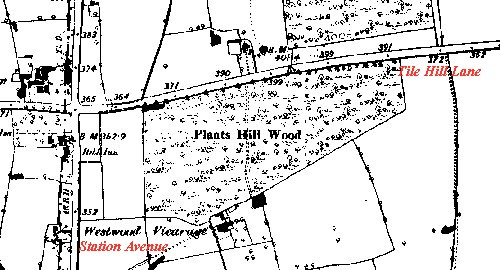 map of Plants Hill Wood [Tile Hill Lane opposite Tile Hill Wood School] c1889
"Plants Hill Wood" is taken from the meaning, 'Plantation on the Hill' - the character of the wood was preserved, for as trees were felled, others were planted. The wood stands between Tile Hill Lane and Plants Hill Crescent and slopes greatly from North to South, with a steeper incline to the West side - 423 feet above sea level. It is a mixed wood of 24 acres containing Pedunculate Oak approx. 160 years of age, Sessile Oak ['trees of the hills'] and Beech approx. 180 years of age. There are also Lime, many Scots Pine, European Larch, Norway Spruce and a solitary Crack Willow [a lover of moist places] in the West corner where a shallow pool forms in very wet weather from water seeping down the steep incline.
In 1851, 7 Oaks were sold from Plants Hill Wood [out of a lot of 263 costing £1,050]. During WWII timber was felled for mining [pit props]. A licence was issued for almost 14,000 cubic feet of mining timber [mostly Larch/Spruce/Pine]. The 1945 prices were: Larch 52s [£2.60] Spruce 45s [£2.25] Mixed 48s [£2.40] per ton.
In the great cyclonic gale of March 1947 several trees were uprooted, subsequently being sold to local timber merchants.

Tile Hill Kid - Links
please scroll to click on links below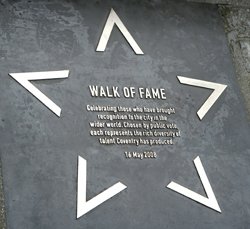 Tile Hill Kid
Walk of Fame - Stars
Arnold Cottages
Bell Inn, Tile Hill Village
Canley Gates [Railway]
Canley Hill
Connoway Farm
Duggins Lane WW2 Hostel
The Old Smithy, Duggins Lane
Fletchampstead Farm
Fletchampstead Hall
Hearsall Farm
Hereward [Further Education] College
Jardine Crescent
Leigh [CofE] Primary School
Limbrick Farm
Limbrick Wood
Limbrick Wood Primary School
Massey-Ferguson Company
Newlands Pub and Shops
Old Reformatory
Our Lady of the Assumption [Catholic] Primary School
Park Wood
Pig Wood
Plants Hill Wood
Pound, Tile Hill Lane
Rough Close
Standard Motor Company
Standard-Triumph Social Club
Tanyard Farm
Templars School Reunion
Templars School History
The Old Smithy, Duggins Lane
Tile Hill [Further Education] College
Tile Hill Cottages
Tile Hill Farm
Tile Hill Lane
Tile Hill Station [Railway]
Tile Hill Village
Tile Hill Wood
Tile Hill Woodlands Local Nature Reserve
Tile Hill Wood [Girls] Secondary School
Wakefield Cottages
Wakefield Crossing [Railway]
Westwood Vicarage
Whoberley
Whoberley School Reunion
Whoberley School History
Whoberley Hall
Whoberley Villa
Woodlands [Boys] Secondary School
Tile Hill Street Pics
Westcotes 1945 Street Party

join Tile Hill Kids on Facebook
---
bookmark for updates:
http://www.gone-butnotforgotten.org.uk/tilehillkid/
copyright 1998
Tile Hill Kid
All rights reserved.
Please do not copy any of the website TileHillKid.UK without prior permissions. Any commercial use or any use in future publications is prohibited. If you encounter any problems on this website, please email William@TileHillKid.UK immediately.