TileHillKid.UK - Tile Hill Wood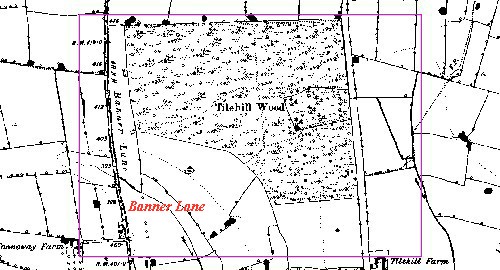 map of Tile Hill Wood [off Tile Hill Lane, along Hawthorne Lane] c1889
"Tile Hill Wood" dates back to the 16thC and covers an area of almost 73 acres - the same today as in 1889, though the ecological balance has altered. The wood is designated as a 'Site of Special Scientific Interest' by the Nature Conservancy Council. It is a mixed deciduous and coniferous woodland and contains Norway Spruce, European Larch and Sweet Chestnut coppice, 400 feet above sea level, sloping gently South.
The wood is rich in flora and fauna - it has been established as a Nature Reserve since 1930 and has a regular Forester. During WWII large areas of scrub and conifers were cleared to reduce the risk of fires from air-raids. In March 1947, 5 acres of mature Spruce were uprooted during a cyclonic gale. "Keepers Meadow", the area marked on the map to the centre-left, within the wood, was unplanted in 1776 but now has a canopy comprising mainly Sycamore, Oak, Spruce, Birch, Chestnut, Ash and |Pine.
Walkers, birdwatchers and wildlife enthusiasts have much to see ... there are ponds rich in plankton and insect life; songbirds inhabit the tree-lined avenues; animals include wood mice, foxes, squirrels, moles ... and SNAKES !! There is beauty and interest all year round. Wild flowers and butterflies add to the wood's diversity.

Tile Hill Kid - Links
please scroll to click on links below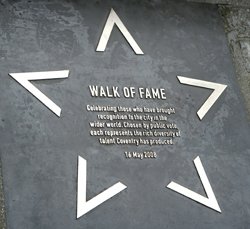 Tile Hill Kid
Walk of Fame - Stars
Arnold Cottages
Bell Inn, Tile Hill Village
Canley Gates [Railway]
Canley Hill
Connoway Farm
Duggins Lane WW2 Hostel
The Old Smithy, Duggins Lane
Fletchampstead Farm
Fletchampstead Hall
Hearsall Farm
Hereward [Further Education] College
Jardine Crescent
Leigh [CofE] Primary School
Limbrick Farm
Limbrick Wood
Limbrick Wood Primary School
Massey-Ferguson Company
Newlands Pub and Shops
Old Reformatory
Our Lady of the Assumption [Catholic] Primary School
Park Wood
Pig Wood
Plants Hill Wood
Pound, Tile Hill Lane
Rough Close
Standard Motor Company
Standard-Triumph Social Club
Tanyard Farm
Templars School Reunion
Templars School History
The Old Smithy, Duggins Lane
Tile Hill [Further Education] College
Tile Hill Cottages
Tile Hill Farm
Tile Hill Lane
Tile Hill Station [Railway]
Tile Hill Village
Tile Hill Wood
Tile Hill Woodlands Local Nature Reserve
Tile Hill Wood [Girls] Secondary School
Wakefield Cottages
Wakefield Crossing [Railway]
Westwood Vicarage
Whoberley
Whoberley School Reunion
Whoberley School History
Whoberley Hall
Whoberley Villa
Woodlands [Boys] Secondary School
Tile Hill Street Pics
Westcotes 1945 Street Party

join Tile Hill Kids on Facebook
---
bookmark for updates:
http://www.gone-butnotforgotten.org.uk/tilehillkid/
copyright 1998
Tile Hill Kid
All rights reserved.
Please do not copy any of the website TileHillKid.UK without prior permissions. Any commercial use or any use in future publications is prohibited. If you encounter any problems on this website, please email William@TileHillKid.UK immediately.