TileHillKid.UK - Pig Wood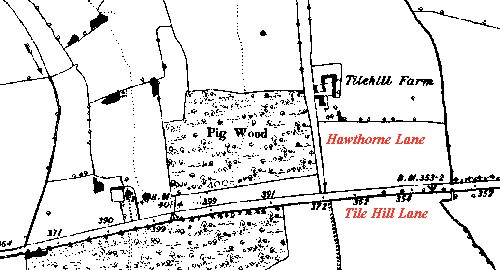 map of Pig Wood [Tile Hill Lane/Hawthorne Lane] c1889
The 14 acres of "Pig Wood" likely dates back to at least the 11thC - the name "Pig Wood" comes from its use for the grazing of swine/pigs. The right to graze swine on fallen acorns and Beech mast, in woodlands, was known as 'pannage'.
The Domesday Book records that there was grazing for 2,000 pigs within the Manor of Stoneleigh, which included Tile Hill and Canley.
Pig Wood has always been very dark, dense and overgrown, mixed with deciduous and coniferous wood and with a canopy of Pedunculate Oak, Lime, Scots Pine, European Larch, Norway Spruce, Silver Birch, Ash, Sweet Chestnut, Rowan, Holly, Whitebeam, and Aspen Poplar, as well as signs of new planting incl. Oak, Hornbeam and Ash . The area adjacent to Tile Hill Lane was planted in the late 19thC and adjoins the old boundary which can be clearly seen, with its deep ditch and high bank. The original gate posts leading into the wood are still preserved. Rumours have always been abundant that 'wild boar' roam the woods, hence children have usually feared to play within.

Tile Hill Kid - Links
please scroll to click on links below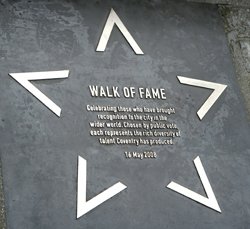 Tile Hill Kid
Walk of Fame - Stars
Arnold Cottages
Bell Inn, Tile Hill Village
Canley Gates [Railway]
Canley Hill
Connoway Farm
Duggins Lane WW2 Hostel
The Old Smithy, Duggins Lane
Fletchampstead Farm
Fletchampstead Hall
Hearsall Farm
Hereward [Further Education] College
Jardine Crescent
Leigh [CofE] Primary School
Limbrick Farm
Limbrick Wood
Limbrick Wood Primary School
Massey-Ferguson Company
Newlands Pub and Shops
Old Reformatory
Our Lady of the Assumption [Catholic] Primary School
Park Wood
Pig Wood
Plants Hill Wood
Pound, Tile Hill Lane
Rough Close
Standard Motor Company
Standard-Triumph Social Club
Tanyard Farm
Templars School Reunion
Templars School History
The Old Smithy, Duggins Lane
Tile Hill [Further Education] College
Tile Hill Cottages
Tile Hill Farm
Tile Hill Lane
Tile Hill Station [Railway]
Tile Hill Village
Tile Hill Wood
Tile Hill Woodlands Local Nature Reserve
Tile Hill Wood [Girls] Secondary School
Wakefield Cottages
Wakefield Crossing [Railway]
Westwood Vicarage
Whoberley
Whoberley School Reunion
Whoberley School History
Whoberley Hall
Whoberley Villa
Woodlands [Boys] Secondary School
Tile Hill Street Pics
Westcotes 1945 Street Party

join Tile Hill Kids on Facebook
---
bookmark for updates:
http://www.gone-butnotforgotten.org.uk/tilehillkid/
copyright 1998
Tile Hill Kid
All rights reserved.
Please do not copy any of the website TileHillKid.UK without prior permissions. Any commercial use or any use in future publications is prohibited. If you encounter any problems on this website, please email William@TileHillKid.UK immediately.